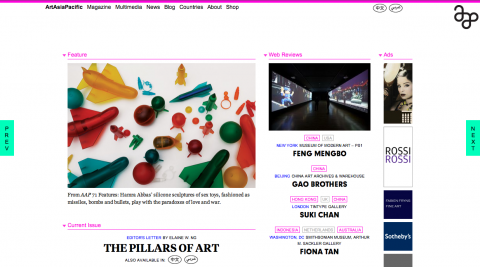 ArtAsiaPacific, the leading publication on contemporary art in Asia, the Pacific and the Middle East, relaunched its website this week.
The new site—designed by LinkedBy Air, the team behind the Whitney Museum site's relaunch last year—makes dozens of past articles available for free, including many on contemporary Japanese art.
The bimonthly magazine will continue to release selected articles with each issue, and there will be regular uploads of web-exclusive reviews, video interviews, news reports and blog posts. Meanwhile, the archives, which currently go back to 2007, will grow over time.
Here is a compilation of links to the articles on contemporary Japanese art currently available on the site. As the 2011–2007 span of the archives happens to coincide with when I started contributing to the magazine from Tokyo and then moved to New York to become a full-time editor, you'll notice that a chunk of them are my own!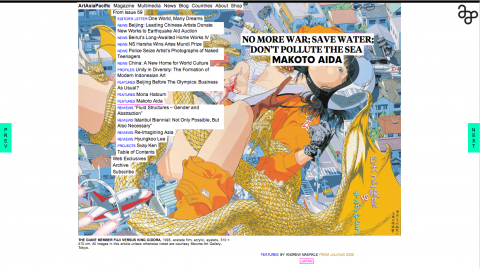 Features
• Daido Moriyama: "Out of the Darkness" by Ashley Rawlings [AAP 70, Sept/Oct 2010]
• Taboos in Postwar Japanese Art: Mutually Assured Decorum by Ashley Rawlings [AAP 65, Sept/Oct 2009]
• Lee Ufan: Illusions and Interrelationships by Ashley Rawlings [AAP 62, Mar/Apr 2009]
• Makoto Aida: No More War; Save Water; Don't Pollute the Sea by Andrew Maerkle [AAP 59, Jul/Aug 2008]
• Yoko Ono: The Artist in Her Unfinished Avant-Garden by HG Masters [AAP 58, May/Jun 2008]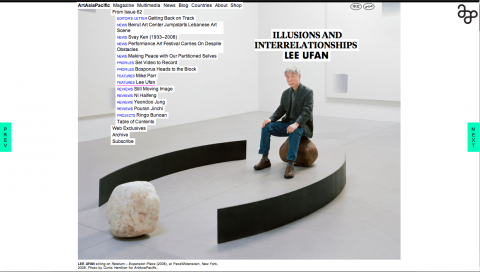 Essays
• Institutional growth and diversification in the Tokyo art scene: "Living in A Beautiful Japan" by Roger McDonald [AAP 53, May/Jun 2007]
Reviews
• Ryoji Ikeda: "+/- [The Inifinite Between 0 and 1]" at the Museum of Contemporary Art, Tokyo, by Kenichi Kondo [AAP 64, Jul/Aug 2009]
• "Into the Atomic Sunshine" at Daikanyama Hillside Forum by Ashley Rawlings [AAP 61, Nov/Dec 2008]
• Daido Moriyama: "Retrospective 1965–2005 / Hawaii" at the Tokyo Metropolitan Museum of Photography by Ashley Rawlings [AAP 60, Sept/Oct 2008]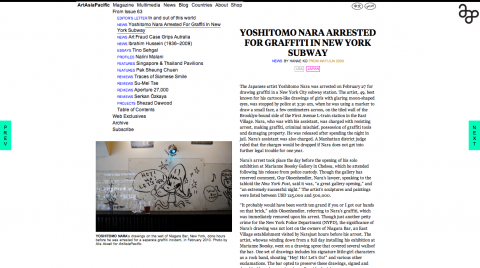 News
• Controversy over Takashi Murakami's exhibition at the Château de Versailles by Jina Valentine [AAP 71, Nov/Dec 2010]
• Controversy over Seattle Art Museum guard altering a Yoko Ono work by Rebecca Close [AAP 66, Nov/Dec 2009]
• Yoshitomo Nara's arrest for writing graffiti in the NYC subway by Hanae Ko [AAP 63, May/Jun 2009]