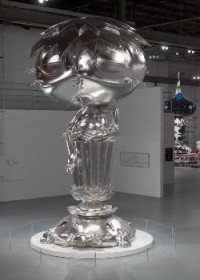 Following his record sale of Lonesome Cowboy at Sotheby's on May 14, Takashi Murakami continues to see his major work sell out.
His LA gallery Blum & Poe, currently showing at Art Basel, the world's largest modern and contemporary art fair, sold his 18.5 ft tall aluminum and steel sculpture Oval Buddha to an unnamed western European collector for US $8 million, not long after the fair opened. (Source: Bloomberg.)
Oval Buddha is a limited edition of three. It was due to be featured in the ©MURAKAMI exhibition currently taking place at the Brooklyn Museum (until July 13) but was reported to have been too big for the museum's exhibition spaces.
For those who cannot afford $8 million, it is on view (until September 7) at the indoor public sculpture garden at 590 Madison Ave. facing 56th Street, open to the public free of charge.