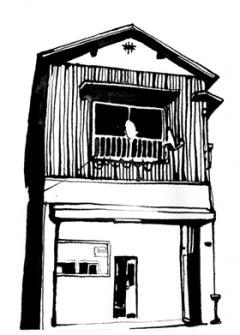 I'm sorry to report that after six years of exhibitions, Nakaochiai Gallery is holding its closing party on November 27.
Having long been involved in art projects all over Tokyo, the owners, Julia Barnes and Clint Taniguchi, have decided to move their home to Mejiro and continue their art activities without a permanent gallery space.
The only other featured gallery to have closed in the two and a half years since Art Space Tokyo was first published is Project Space Kandada, run by the nonprofit artist collective commandN. However, like Nakaochiai they were not shutting down their operations but were relocating and expanding them elsewhere, at their new initiative, the 3331 Arts Chiyoda center.
When Craig and I chose the 12 spaces to feature in the book, we did try to choose those with longevity. After all, we were looking for some of the most architecturally and historically distinctive galleries and museums, so the fact that most of them are located in striking, often purpose-built buildings makes them less likely to relocate.
But it was inevitable that some would, and Project Space Kandada and Nakaochiai were the two that we suspected would be most likely to do so. But it's important to remember that we also chose these spaces because of the fascinating neighborhoods they are in. We want our readers to continue to explore the secondhand bookstores of Kanda and the old-world residential backstreets of Nakaochiai. Keep wandering!