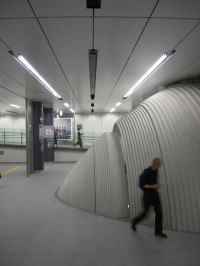 It's not often that you get to experience the smell of a new subway station, or feel happy to miss several trains while you wander around the platform staring at the architecture. Beijing will be unveiling its new subway lines for the Olympics in a couple of months, but right now, the Fukutoshin Line, opened in Tokyo over the weekend, is the world's newest.
Designed to alleviate rush hour congestion on the western edge of the JR Yamanote Line, it runs from Shibuya up to Ikebukuro, and then up into Saitama Prefecture. In 2012 the current Shibuya terminus will connect to the Tokyu Toyoko Line, making it much easier to move between Saitama and Kanagawa prefectures.
The Shibuya Station end of the Fukutoshin Line has been designed by the master of concrete architecture Tadao Ando, who has integrated a large, vaulted ovoid structure into the center of the station — dubbed an "underground spaceship" — which makes for both a striking journey to and from the platforms, and allows for the free flow of air in and out of the station. Needing no fans for circulation, this is the world's first naturally ventilated subway station.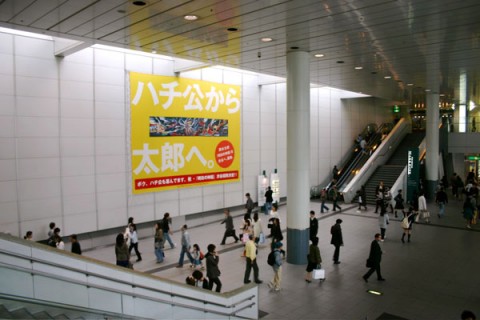 Meanwhile, earlier this year the concourse between the JR Yamanote Line and the Inokashira Line was chosen as the permanent location for Taro Okamoto's 30 meter-long mural The Myth of Tomorrow. The work has had something of a fraught history, detailed here on Tokyo Art Beat, and will finally settle into its permanent home in Shibuya in 2011.