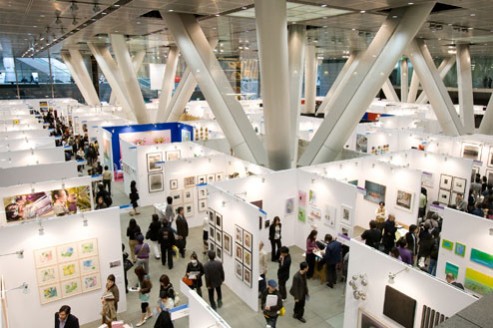 Known for its mixture of galleries that handle antique, modern and contemporary art, Art Fair Tokyo has announced that in 2009 it will feature more contemporary galleries.
Of the 113 participants, 105 are from Japan (mostly Tokyo), while 8 are international. 24 are classified as antique-dealing galleries, 49 as modern art galleries, and 40 as contemporary art galleries.
In a new development, next year will be the first time AFT features a secondary venue dedicated to young contemporary galleries that have been established in the last 5 years. Called Marunouchi Tokia (@TOKIA) there will be 29 participants, 19 of which are from Japan (mostly Tokyo) and 10 of which are international.
Although the complete list of participants has been announced in an email press release, at present the Art Fair Tokyo homepage does not show this information. Presumably it will be updated in due course.
Due to the previous uncertainty over the future of 101Tokyo, most of the Japanese galleries that participated in 101Tokyo 2008 have already joined Art Fair Tokyo's Tokia annex. There are few commercial galleries of substance left in Tokyo, so it is likely that 101Tokyo will take on a different character next year.
Although 101Tokyo 2008 had a 50-50 balance of Japanese and international galleries, it is fair to assume at this stage that in 2009 it will reappear as a more internationally oriented fair.