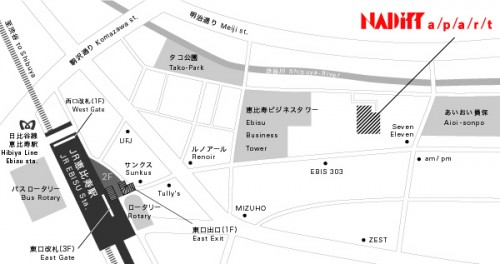 This is the latest chapter in Tokyo's ongoing series of gallery relocations of the past six months. The building will house Nadiff bookshop, Magical Artroom and G/P Gallery.
Nadiff, Tokyo's number one art bookshop, left its main premises in Omotesando last summer, and since then has been running only its museum shop outlets. The Roppongi gallery building closed in February this year, forcing its occupants to find new locations throughout the city, and news spread that Magical Artroom would be joining Nadiff in Ebisu. However, the opening date for this new building has been repeatedly postponed since then.
Magical Artroom was previously operated by a collective of Tokyo art world figures — collector and psychiatrist Satoshi Okada, art critic Kentaro Ichihara, and editor Shigeo Goto, with Haruka Ito running the office. Now, Haruka Ito is running the gallery, with Satoshi Okada as president and Masami Shiraishi (director of SCAI The Bathhouse) as a professional adviser. The former directors will also remain as advisers.
Shigeo Goto also announced recently that he will also be opening his own photography gallery in the same building, called G/P Gallery.
The new building will open on July 7, 7pm.