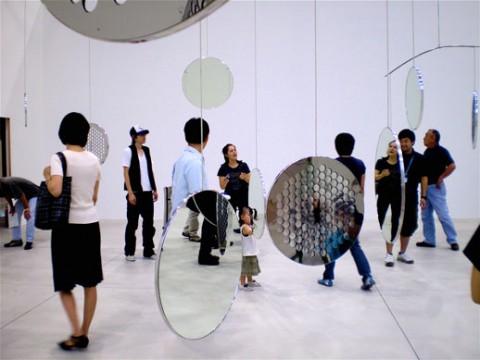 Coverage of the Yokohama Triennale appears to have peaked this month, with a slew of reviews and interviews. Roger McDonald gives a fascinating critique from a curatorial point of view on his Tactical Museum blog.
PingMag offered a mini guide to the triennale, while Tokyo Art Beat published reviews of a number of works featured in the show, including Cao Fei's Play with your Triennale, Matthew Barney's Guardian of the Veil, and Cerith Wyn Evans and Throbbing Gristle's A=P=A=R=I=T=I=O=N. The Japan Times also reported on Terence Koh's White Bunny Parade.
For interviews with artists taking part in the triennale, see TAB's video series that focused on Joan Jonas, Aki Sasamoto, and Andreas Stasta, an assistant to Hermann Nitsch.
Other reviews this month:
• Aida Makoto at Mizuma Art Gallery [Artscape]
• Tomoko Shioyasu at SCAI The Bathhouse [Artscape]
• Seiichi Yamashita at Gallery Bauhaus [Artscape]
• "Diorama of the City: Between Site and Space" at Tokyo Wonder Site, Shibuya [Japan Times]
• Noritoshi Hirakawa at Wako Works of Art and Nanzuka Underground [Japan Times]
• Joan Jonas at Wako Works of Art [Japan Times]
• "Avant-Garde China: Twenty Years of Chinese Contemporary Art" at the National Art Center, Tokyo [Japan Times]
• Tomoko Yoneda at Hara Museum of Contemporary Art [Japan Times]
• Tomoko Yoneda at Hara Museum of Contemporary Art [Artforum.com]
• Yasuyuki Nishio at NADiff [TAB]
• GEISAI #11 [Art Newspaper]
More general articles that have appeared this month have included Tokyo Art Beat's exploration of the Koganecho Bazaar in Yokohama, and its interview with Lieko Shiga, who was in last month's "Trace Elements" exhibition at Tokyo Opera City Art Gallery, and is currently showing at in the "On Your Body" exhibition at the Tokyo Metropolitan Museum of Photography.
Meanwhile, the Japan Times looks at the Venice Architecture Biennale and touches on Junya Ishigami's work there. They have also reported on the Mitsubishi Corporation Art Gate Auction; the Kunst Oktoberfest, a bus tour of several galleries in the Ginza and Nihonbashi areas; and the controversy that artist group Chim↑Pom recently caused in Hiroshima, which is then discussed in relation to Cai Guo Quiang's work in Hiroshima at the art life blog.
ART iT takes a look at art works installed in the Tokachi Plain in central Hokkaido, while in his "Out of Tokyo" column at Realtokyo, Tetsuya Ozaki comments on Tsuyoshi Ozawa and Paramodel's participation in the "Akasaka Art Flower" exhibition held at various sites in Akasaka, as well as the "Extended Senses: Present of Japanese / Korean Media Art" exhibition at the NTT ICC.
Shiftblog has interviewed Megumi Matsubara of the architectural unit "assistant", while PingMag interviews Reno Camerota about Japan's graffiti and street art. As October draws to a close, Tokyo Design Week begins, so as with their Yokohama Triennale coverage last month, PingMag have come up with an introductory guide followed by a more exhaustive list of what's going on.
Lastly, because no month of Japanese art news would be complete without something from Mr Murakami, I leave you with Nylonmag's report on the artist's new series of limited edition Levi's.