The Book: Those Accountable
Ashley Rawlings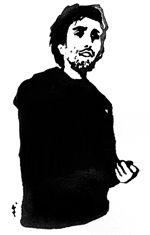 Editor and co-author Ashley Rawlings is a specialist in postwar and contemporary Japanese art. After graduating with a BA in Japanese studies from the University of Cambridge, he moved to Tokyo in 2005, where he conducted research into the late-1960s Mono-ha movement at Sophia University while also working as a freelance editor, writer and translator. His writing on the Tokyo art scene has appeared in numerous Japanese and international publications, including ArtAsiaPacific magazine, where he was managing editor. He currently divides his time between London, Tokyo and New York.
You can view more of his work online at his homepage, ashleyrawlings.com
Craig Mod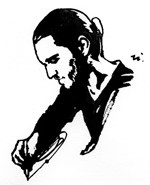 Craig Mod is a cofounder of Chin Music Press. He graduated with a BSE from the University of Pennsylvania after studying fine arts and computer science. He spent two years studying the Japanese language at Waseda University, Tokyo, and has been based in Japan since 2003.
More of his work is online at his website, craigmod.com.
Nobumasa Takahashi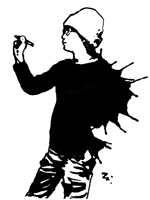 Born in 1973 in Kanagawa prefecture, Japan, Nobumasa Takahashi has been exhibiting his work extensively for the past 10 years. Most recently he has held solo exhibitions in collaboration with design shop Cibone and has been comissioned by Microsoft to illustrate the back of the Zune.
You can view more of his work online at his homepage, Bamboolove.
Published By
Art Space Tokyo is a PRE/POST project.
PRE/POST is publishing think tank concerned with bringing content out in beautiful forms both physical and digital.
Acknowledgements
Edited by:
Ashley Rawlings
Content:
Preface, wayfinding notes, neighborhood and art space descriptions by Craig Mod and Ashley Rawlings
Book & Map Design:
Craig Mod
Artwork:
Profile and art space illustrations by Nobumasa Takahashi
Cover illustration by Craig Mod

Interviews:
Mahiro from Gallery ef by Manami Kamikawa, October 2007
All other interviews by Ashley Rawlings, winter 2007-2008
Translations of interviews and essays as follows:
Yuko Enomoto: Ryutaro Takahashi, Fumihiko Sumitomo
Manami Kamikawa: GA Gallery, 21_21 Design Sight, Gallery ef, Aoyama | Meguro
Lisa Kato: Ikko Suzuki & Kirara Kawachi
Darryl Jingwen Wee: Hara Museum
Lena Oishi: Project Space Kandada, Aoyama | Meguro
Ashley Rawlings: Gallery Koyanagi, Tetsuya Ozaki, SCAI The Bathhouse, Misa Shin, Tokyo Gallery + BTAP, Ghibli Museum
Tomomi Sasaki: Watari-um, Ghibli Museum
transcriptions by:
Yuko Enomoto, Hiroyasu Hirakawa, Manami Kamikawa, Lisa Kato, Mayuko Kohno, Lena Oishi, Ashley Rawlings, Aya Satomoto and Sanae Toyota
editorial assistance:
Yuko Enomoto, Katrina Grigg-Saito and Bruce Rutledge
Sections