Illustrators
One of the goals in designing Art Space Tokyo was to give the book a unique visual rhythm not attainable by photographs alone. For this purpose we approached Japanese illustrator Nobumasa Takahashi to lend sumi-e style inking to the spaces, interviewees and essayists. The end result, combined with beautiful type, is a rich visual texture unlike any other guide you've seen.
Nobumasa Takahashi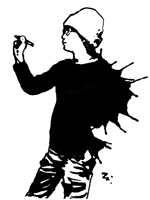 Born in 1973 in Kanagawa prefecture, Japan, Nobumasa Takahashi has been exhibiting his work extensively for the past 10 years. Most recently he has held solo exhibitions in collaboration with design shop Cibone and has been comissioned by Microsoft to illustrate the back of the Zune.
Nobumasa contributed over 50 illustrations to Art Space Tokyo, including all exterior renditions of the spaces, profile portraits and a variety of other illustrative design elements.
You can view more of his work online at his website, Bamboolove.
Craig Mod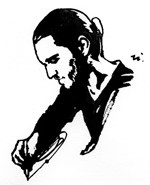 Born in 1980 in Hartford, Connecticut, Craig Mod designs books and new media pieces. His ink illustration for the cover of Art Space Tokyo is a deconstruction of the Tokyo landscape into a series of points, each representing the geographical center of neighborhood blocks. The result is a map that illuminates the underlying urban planning and patterns of development of certain areas of the city.
You can view more of his work online at his website, craigmod.com.
Illustration Samples
Sections