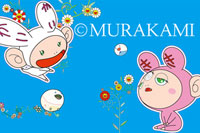 Craig and I are finally in New York, getting our heads around all the exciting exhibitions and events taking place!
The first thing you cannot help but realize during an afternoon's walk in Chelsea is how vast the galleries are compared to Tokyo. It feels like you could fit most of Tokyo's major galleries inside David Zwirner's cavernous space on W19th Street!
Differences aside, New York's enthusiasm for Japanese contemporary art can be clearly felt as there are a number of related exhibitions on at the moment. Yoko Ono is having a solo show at Galerie Lelong; "Heavy Light", a group show looking at contemporary Japanese photography is opening at the ICP this week; SANAA, the architects of the New Museum of Contemporary Art are showing the last ten years of their work in the same museum; and of course, Takashi Murakami is holding his colossal retrospective at the Brooklyn Museum.
The Japanese presence in NY just got a little stronger only a couple of weeks ago, when Tokyo Art Beat, the bilingual art listings website, finally launched New York Art Beat. It's proving very useful for navigating this city…