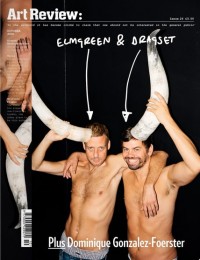 A feature article I wrote on the Tokyo art scene has been published in the October issue of ArtReview.
In it I talk about the next generation of artists who are defining Japanese art, such as Lieko Shiga, Miwa Yanagi, Kohei Nawa and Izumi Kato, as well as cross-genre exhibitions like last year's "Space For Your Future". I also explain how gallery owners like Taka Ishii and Tomio Koyama have cultivated a new generation of dealers out of the former staff of their galleries, such as Jeffrey and Misako Rosen, who set up their own gallery Misako & Rosen in 2006, which is reflective of a broader trend over the past four years.
ArtReview asked the Tokyo-based Swedish photographer Anders Edström to shoot some of the galleries, artists and dealers mentioned in my article, and I was pleasantly surprised by the images when I opened the magazine for the first time. Edström has captured some delightful, informal moments: among them, Jeffrey and Misako Rosen at their gallery between exhibitions, getting paintings ready to hang on the wall, and artist Tomoo Gokita in his studio and out in the street with his mother in the Koenji neighbourhood.
You can read this issue of ArtReview, as well as all of its past issues, by registering for free on its website.