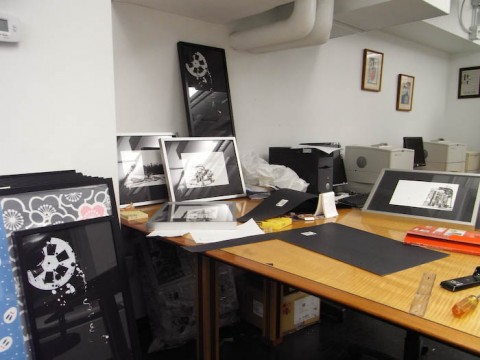 From September 15th until October 1st, Kinokuniya at Bryant Park, Manhattan, will be hosting a small exhibition of Art Space Tokyo illustrator Takahashi Nobumasa's work.
Above is an image of the preparations in the secret back offices of Kinokuniya, which, despite being located in the heart of New York City, instantly transports you into a Japanese Office Space—otsukaresamadeshita and all.
Of course, this is in preparation for our big launch event / contemporary art symposium being held next Tuesday, the 23rd from 6:00pm. If you're in the city, be sure to stop by—it should be a blast. We'll have some of Takahashi's prints and tenugui on sale. We'll also have a healthy supply of books, so those looking to pick up their copy and get it signed shall be satiated.
Details:
Location: Kinokuniya Bryant Park (40th Street and 6th Ave, Manhattan. Closest station: 42nd street Bryant Park)
Dates: From September 15th to October 1st