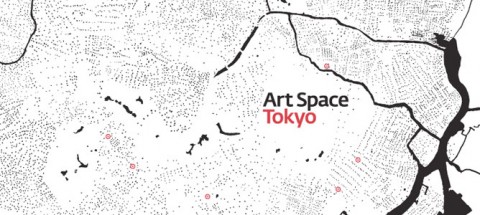 This week, Craig and I have been talking entirely about the creation of the digital editions of Art Space Tokyo. His essay, "Platforming Books," is the go-to point of reference for how he envisioned adapting the book and what he thinks are the core principles that should shape digital publishing.
By coincidence, I was going through some archives and unearthed this essay that I wrote in 2010, "From Tokyo to New York: The Geographies and Narratives that Shape Two Art Scenes." It was originally commissioned by the Tokyo Artpoint Project, an inititative run by the Tokyo Metropolitan Government. It feels like a good time to republish it here, as it goes into much more detail than our prefaces to the 2008, 2010 and 2012 editions about the editorial imperative I felt while making the book.
---
From Tokyo to New York: The Geographies and Narratives that Shape Two Art Scenes
Mapping the Tokyo Art Scene
In early 2007, Craig Mod, a Tokyo-based web entrepreneur and publisher, approached me about making a guidebook to Tokyo's art scene. From the outset, we wanted to avoid the typical, comprehensive A–Z format and create something more personal, so we decided to focus on 12 of the most architecturally and historically interesting museums and galleries. The idea was that the first-time visitor should feel rewarded by the space itself, even if they don't enjoy the exhibition. We wanted to help people discover the best of Tokyo's architecture, from stark and innovative concrete edifices to ramshackle wooden warehouses. And instead of documenting these with glossy photographs, we commissioned the extremely gifted artist Nobumasa Takahashi to illustrate the book with stunning black-and-white ink drawings.
The next key objective was to shine a light on the histories of these places. In addition to location maps and details about opening hours, we wanted to develop a narrative map of the Tokyo art scene. To do this, I interviewed each space's director or curator, discussing topics that ranged from how their spaces came into being to what they look for in contemporary art and where they think the Japanese art scene stands in relation to other countries in Asia and the West.
Since we were eschewing the comprehensive A–Z format, it was also very important to present a fair cross-section of the art scene. The focus on architecturally and historically interesting spaces helped divert our search away from the most obvious, well-known venues, and led us to some lesser-known nonprofit initiatives and foreigner-run galleries. The book also includes institutions that focus on architecture, design and anime. Finally, to cover issues that are not contained within the realm of institutions, we commissioned essays from several Tokyo-based art world figures, who wrote about topics ranging from the syntax of Tokyo's graffiti to the dearth of art criticism in Japan. Thus, Art Space Tokyo was born.

The Making of the Book
Craig and I began our research in May that year. At the time, I was working as a translator and editor for Tokyo Art Beat, a bilingual website that lists all the art and design spaces in the city, as well as all the exhibitions they hold. I knew that there were more than 500 art venues in the city―not only galleries and museums, but nonprofit initiatives, rental spaces, university museums, art cafés, art spaces within department stores, fashion boutiques and community centers. Even from the beginning, we had a good idea of most of the spaces we would feature in the book, but we wanted to visit as many potential alternatives as possible.
Over the following couple of months, once or twice a week, Craig and I made shortlists of galleries in each area of Tokyo and cycled the length and breadth of them in search of the 12 most inspiring spaces, visiting more than 200 in all. Given that Tokyo has very few street names and most addresses are found by a hermetic system of numbers, the navigation of the city's art world is a particularly topographical experience. When you know Tokyo well and you have visited a gallery several times, its location becomes embedded in your physical memory. You turn corners instinctively, allowing yourself to be guided by low-key landmarks: a right-turn at the shuttered tobacco store, followed by a left at the red-and-white striped barricade, and then a short ride down a narrow alleyway of pristinely parked bicycles. Unlike New York's Chelsea, Lower East Side and Williamsburg neighborhoods, or Beijing's 798 and Caochangdi districts, there are very few places in Tokyo that could be considered "gallery areas." Tokyo's art scene, spread out in this infinite maze of streets, can be totally baffling to the first-time visitor.
Sometimes the first-time foreign visitor even baffles the gallery. I remember walking into one particularly old-school, conservative space in Nihombashi only to see the owner stagger back a few paces in open-mouthed astonishment at our arrival. Such overt reactions of surprise are certainly the exception rather than the rule in Japan's most cosmopolitan city, but there is nevertheless a certain feeling of provincialism that one feels in Tokyo's art scene. This is not to suggest that provincialism is a wholly negative characteristic, nor to imply that it is inherently better to be a highly commercial, international art hub like Los Angeles, New York, London, Sydney or Beijing. But it does raise questions about Japan's place in the global art world.
As China, India and Southeast Asia's art scenes have boomed in recent years, against a backdrop of a somewhat tepid domestic scene, Japanese artists and curators have begun to reconsider their role and relevance in Asia. Such reflection is constructive, but the sad thing was that I occasionally encountered hints of an inferiority complex among them, a sense of anxiety that Tokyo's galleries should be more "on a par" with their more commercially vibrant counterparts elsewhere in the world. I noticed how Tokyo's most powerful galleries paid close attention to the construction of Tokyo's self-image, collectively taking pains to project coherence, confidence and credibility into the international market. In a slightly simplistic nutshell, the narrative is as follows: though Tokyo has had a commercial contemporary scene since the 1950s, galleries that are "on a par" with those in the West only emerged in the 1990s (coinciding with the global interest in Yoshitomo Nara, Takashi Murakami and his anime-derived Kaikai Kiki/Superflat aesthetic); by the mid-2000s, the staff of those galleries began open their own spaces, creating a new generation. Altogether, we're talking about no more than 30 commercial venues.
Tokyo's art scene is still small enough for many of these galleries to operate more as allies than rivals. The positive side of this was that there was refreshingly little politics to negotiate when Craig and I approached venues about taking part in AST. Most wanted to know which other galleries and museums would be featured, and many remarked on how unconventional the lineup was; the focus on architecturally and historically distinctive spaces excluded many of the key players in the aforementioned narrative. However, everyone recognized that AST was a much-needed English-language guide, and some even expressed regret that it had taken so long for anyone to come up with such an initiative.
And yet, while the book was very well received when it was published, one negative comment about it stuck in my mind. A young gallerist whose space was not featured in the lineup said she was uncomfortable about its juxtaposition of top-tier commercial galleries with lesser-known spaces; she felt it should have focused more on the linchpins of the 1990s and 2000s. I guess she was too wrapped up in those politics to see the point of AST. I believe that those galleries can take care of themselves; I certainly made sure to document their role within the book, but it is precisely their increasingly dominant narrative that I wanted to counterbalance before it becomes entrenched. There is more to Tokyo than what they do.

Tokyo as seen from New York
Nearly two years after AST was published, I find myself living and working in New York, observing Tokyo's art world from the outside. In early 2009, I moved here to work as an editor at ArtAsiaPacific magazine. Though along with Australia, China and India, Japan is considered one of the contemporary art giants among the 67 countries and territories covered in AAP―ranging from Turkey to the Pacific Islands―it feels somewhat lost in the fray. While obtaining information on the Japanese art scene is certainly much easier than finding out what artists are doing in Turkmenistan, Bhutan and Niue, there is the strange feeling that Japan is disproportionately remote. I know exactly where to find the information about Japanese art online, but somehow it feels more like fulfilling a niche interest than it should. Many people I meet in New York are fascinated by Japanese contemporary art, and yet few know much about it. The more Tokyo can do to raise its profile and diversify its English-language self-representation―at home and abroad―the better.
It goes without saying that in contrast to Tokyo, the geography of the New York art scene is far more efficient. The simple logic of most of the city's street numbering means there is little difficulty in finding any museum or gallery, especially when they are so densely concentrated in a handful of areas. But more importantly, information is provided in abundance: exhibitions are well publicized and documented, both in print and online. It is New York's culture of informational openness that Tokyo should seek to emulate, not its social grandstanding. In that respect, New York is almost too efficient for its own good. The relentless competitiveness of social networking, particularly in Chelsea, is exhausting and for the most part uninteresting―it might advance some people's careers, but does it advance the art and the surrounding discourse? The great thing about Tokyo's art scene is that it's not like anyone works in it to accumulate massive wealth and power, so it is largely driven by a sincerity and integrity that is not always easy to find over here.
With that in mind, it is an interesting time to be living here. Though overall the art market thunders on in spite of the recession, and sales continue to be made at prices far above Tokyo's, New York's global relevance is in gradual decline. No doubt it will continue to remain important and influential, but with the growth in prominence of contemporary artists from all other parts of the world, and a proliferation of art fairs, biennials and triennials across the globe―particularly in the Asia-Pacific region―there have never been so many inspiring, alternative opportunities to make one's mark elsewhere, and on one's own terms.