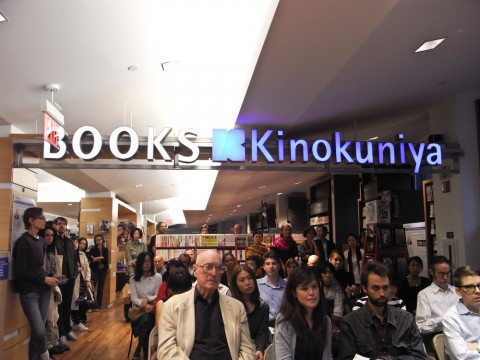 A big thank you to all who attended our event last week at Kinokuniya in NYC! It's hard to believe a week has already passed since our official US launch of Art Space Tokyo. Turnout was better than expected. All seats were full and people were snaking around the back of the room and into the adjacent cafe. A large contingency of the New York art world, designers, artists and others interested in Japanese culture were in attendance.
It wouldn't have been a success without the great panel we had that night: comprised of Roland Kelts (Japanamerica), Reiko Tomii and Kosuke Fujitaka (NY/Tokyo Art Beat). I've been to many a talk with panels than grossly ran over on time, had little focus or just sounded like a bunch of people talking over one another. In stark contrast to that, I think we were able to achieve a focused and concise look at the Tokyo art world. And Reiko even managed to plunge historical contexts in reference to the contemporary. Thanks to the diversity of the panelists, those in attendance got to hear three very different, but equally informed voices. Truly a special event that wouldn't have been possible without the kindness of John Fuller at Kinokuniya for lending the space and equipment.
So this marks a somewhat sad moment for us here — with this event we officially complete the conception, production and launching of Art Space Tokyo. It's strange, after working on something for so long and so hard, having planned these events months in advance, to finally arrive at the 'finish line' (so to speak) feels very much like having completed a mental (and very much physical) marathon. And as anyone who has trained for an finished a marathon knows, there's a tinge of sadness in the triumph of achieving your goal.
Of course we'll still be blogging about the Tokyo art world here, and we'll be putting on more events and speaking at more bookshops. But the 'official' timetable, the schedule we had been working off for the past year or so, is done. Thank you all who helped make this book a success thus far! We look forward to seeing where this project leads us next.