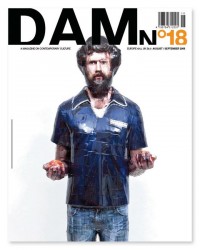 The next issue of the very slick DAMn˚ magazine (#18), a Belgium-based publication that focuses on contemporary design, art and architecture, will feature a six page article on Japanese contemporary art that I wrote.
The article is essentially an introduction to the Tokyo contemporary art scene, aimed at those who are still under the impression that it's all about Takashi Murakami and Yoshitomo Nara. I bring up a couple of other major figures like Naoya Hatakeyama and Tatsuo Miyajima, but more importantly some of the key names from the younger generation of contemporary artists, such as Tomoo Gokita, Izumi Kato and Tabaimo.
The article gives a brief overview of some of the galleries that established themselves in the post-bubble economic slump of the 1990s and how the Tokyo gallery world has developed since the early 2000s, in the shadow of the almost exclusive attention that has been paid to the rise of the Chinese contemporary art scene.