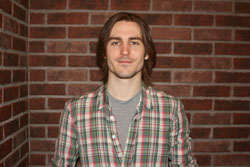 The Japan Times recently ran an article on none other than Art Space Tokyo's designer and publisher Craig Mod.
Craig's essays, "Books in the Age of the iPad" and "Embracing the Digital Book" have won him attention from people across the publishing and IT industries, including the New York Times tech blog.
For Craig, Art Space Tokyo, and in particular the Kickstarter-funded reprint, are important milestones in developing his ideas about how we can maximize the potential inherent in digital publishing.
The second edition of Art Space Tokyo is now printed and copies will be shipped out to our loyal customers shortly.
Next week, I will be meeting with Craig in Tokyo to hold some AST events, discuss the AST iPad version and think about where we will take this project next. More on this soon!