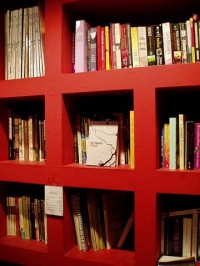 Tokyo launch party? Check. Pechakucha presentation in Japanese? Check. Refresh a website for a book with more information and detail than is necessary? Check.
Starting tomorrow our gaze shifts to our September US publication date. We'll be posting updates, news and event information related to the book (and also some art events in Tokyo) as we travel down the twisted and horribly unpredictable road of public relations and marketing. Wish us luck, kind readers.
Photo: ART SPACE TOKYO in Shanghai — one of our on the ground Chinese agents helped not only smuggle the book into the country, but also get it into one of our favorite French Concession cafes.