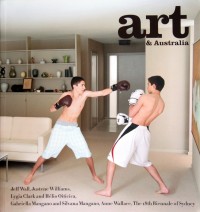 Back in February, I went to Los Angeles to see Requiem for the Sun: The Art of Mono-ha," a landmark exhibition of the late-1960s conceptual movement held at Blum & Poe.
The gallery is well-known for having represented Takashi Murakami and Yoshitomo Nara since the 1990s, but in recent years they signed on Lee Ufan, the Mono-ha group's Korean-Japanese theoretician. Thus, it was a natural progression for Blum & Poe to hold a survey of Mono-ha as a whole—something that has never been attempted in the United States.
"Requiem for the Sun" was, quite frankly, astonishing. Anyone who has studied the movement will mostly have seen only photographic documentation of ephemeral works that have long vanished since their original presentation in the 1960s and '70s. Mono-ha is all about the "encounter" with raw materiality, so this exhibition was an invaluable opportunity for viewers to have that essential first-hand experience. The brute presence of installations such as Kishio Suga's Soft concrete (1970/2012) spoke for itself.
The current issue of the quarterly journal Art & Australia features an article I wrote on "Requiem for the Sun." In it, I frame the exhibition in terms of a recent surge of international interest in Mono-ha and the postwar Japanese avant-garde. Given that the artists do not "create" their works so much as "present" them, I ask how did the latest "re-presentations" at Blum & Poe compare with past iterations.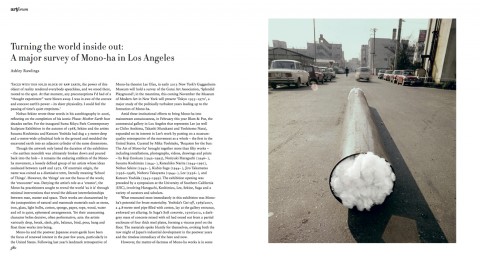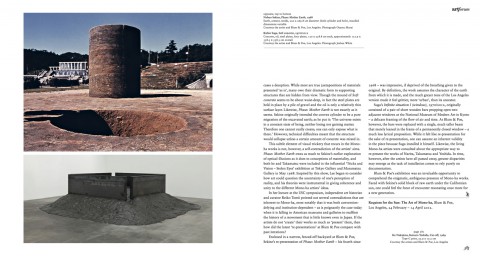 Particularly exciting for me was the re-presentation of Nobuo Sekine's Phase – Mother Earth. Originally made in Kobe in 1968, this piece—a 2.7-meter-deep by 2.2-meter-wide cylindrical hole in the ground with an adjacent monolith of the same proportions—has only been re-presented four times since. The last time was in Tokyo in October 2008, a three-day process that I documented for Tokyo Art Beat. It was intriguing to see Phase – Mother Earth in Blum & Poe's back yard, surrounded by palm trees. The piece is inherently characterized by the soil from which it is made, so the great majority of us have only seen its dark, earthen character in photos from 1968. In LA, the earth was much grittier and grayer—it felt inherently more "urban."
You can read reviews of "Requiem for the Sun" on Artforum, Artnet, and the LA Times.
ART iT's deputy editor Andrew Maerkle has also published Between Potentiality and Fatality, a three-part in-depth interview with Kishio Suga.