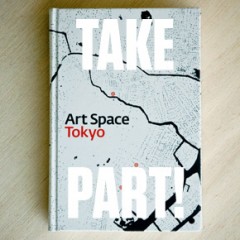 Art Space Tokyo will be back on the shelves, in your hands, and on your iPad soon!
The book's original print-run of 1,500 copies has been sold out for more than a year. If you're one of our loyal followers who is frustrated not to have gotten hold of a copy, then this is your chance.
Demand has remained very high, so we bought back the copyright and are reprinting it ourselves, also with plans to develop an iPad version.
We have set up an Art Space Tokyo Kickstarter page, where you can pre-order your copy of the new edition.
Even though this page has only been up for less than a week, and Craig and I haven't even sent out a mass e-mail about it yet, the response has been incredible.
Just by posting news of the reprint on Facebook and Twitter, as well as some coverage on a couple of popular blogs, we have already raised over $5,000!
This is an experiment in community-funded publishing. If we cannot secure $15,000 in pre-orders by May 1st, printing will not go ahead and you will not be charged. You're only charged if we raise enough interest and reach our minimum goal.
We hope you're as excited about this as we are, and that you will continue to give your support to Art Space Tokyo.