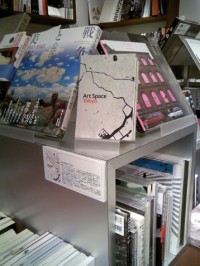 I'm now back in Tokyo, taking in the whirlwind of activity that was the last ten days in New York.
When comparing the New York and Tokyo art scenes, aside from the larger number and size of galleries in New York, the key difference would be how NY has such distinct art areas, be it Chelsea, Soho, the Upper East Side, the Lower East Side or Williamsburg. With so many galleries concentrated into each of these areas, it is so easy to walk from door to door, from street to street, taking in dozens of shows at a time. In ten days I managed to see some sixty or so exhibitions!
Given how dispersed the galleries are in Tokyo, to do the same in here would be a physically exhausting feat, as Craig and I found out when we were doing our research for Art Space Tokyo last year. The pace of the gallery going experience in Tokyo is inherently different: although we marked other nearby galleries on the maps for each of the twelve spaces in AST, visiting these spaces is really about enjoying the charms of the surrounding area rather than just packing in exhibition after exhibition.
I'm pleased to see that Art Space Tokyo is now in Tokyo's bookshops. Walking around Roppongi yesterday, I found it in the Tsutaya Roppongi Hills bookshop, the Roppongi Hills Art and Design Store in the Mori Art Museum and the SFT Store in the National Art Center. More outlets are listed here.